APPION MEGAFLOW 3/8IN HOSE - 1 FT (1/4FL TO 1/4FL-45°) BLUE
Quantity: 2
---
---
---
MegaFlow 3/8in High-Speed Filter Dryer Hose
Increase the speed of your refrigerant recovery process by using the MegaFlow 3/8in High-Speed Filter Dryer Hose.
Features and Benefits
Large 3/8in Internal Diameter for superior performance

Short 1ft length

Full Flow - more flow than a restrictive 1/4in charging hose

Rated for use with R410A and all common refrigerants

4000 psi burst and 800 psi working pressure

Vacuum-Rated to 20 microns

Won't permeate or collapse in a vacuum

1/4in FL fittings make it easy to connect to the Appion Refrigerant Recovery Pumps and filter dryers with 1/4in MFL connections
Larger Hoses for Refrigerant Recovery
Even when restricted by 1/4in system ports, using a 3/8in hose greatly reduces resistance and increases potential flow.
Don't believe us? Click the link --> Full Flow to learn more about reducing recovery times. Save Hours, save Days, save Money.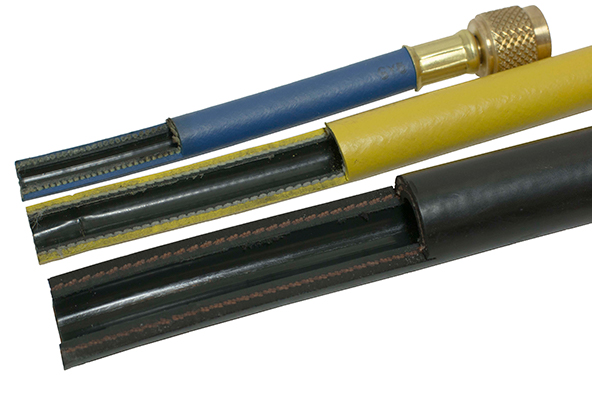 Are your Tools Rated for Vacuum and Pressure?
All MegaFlow Hoses are Vacuum-Rated to 20 microns and designed for high pressure refrigerants, such as R410A. This will give you the peace of mind that your tools aren't going to leak in a deep vacuum or during critical parts of the recovery process.
APPION MEGAFLOW FAST RECOVERY
Inquiry - APPION MEGAFLOW 3/8IN HOSE - 1 FT (1/4FL TO 1/4FL-45°) BLUE